Invitation To Contribute Towards The Purchase Of 2 Acres Of Land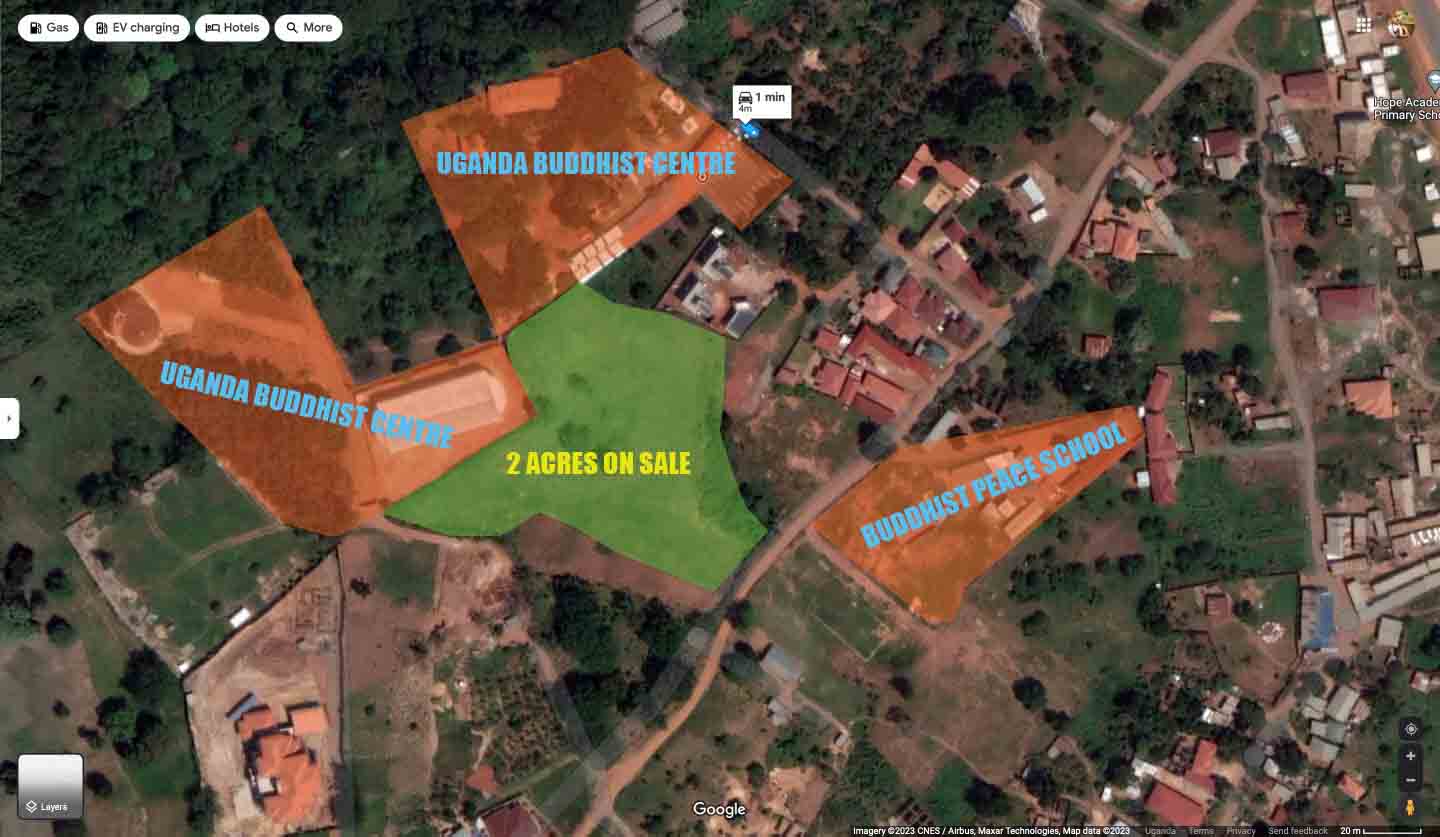 Dear Dhamma friend,
Dhamma greetings from the Uganda Buddhist Centre! The Uganda Buddhist Centre (UBC) was established in 2005 under the guidance of its founder Ven. Bhikkhu Buddharakkhita.
We need US$ 308, 767 to purchase 2 acres of adjacent to UBC for the future expansion of the Buddhist High School and UBC activities so that we can train future well-disciplined monastic, visionary leaders and responsible citizens. What Africa really needs is visionary leaders who have both the moral compass and emotional intelligence to live a life of service and integrity. Certainly, we can create this world through high quality education that is based on both the Uganda National Curriculum, and the teachings of Early Buddhism. Such education offers the best of both African philosophy and Buddhism, including the concept of Ubuntu and mindfulness meditation. Our Buddhist school will be replicated many-fold across Africa, and in a generation's time. Africa will have the type of visionary leaders it needs for peace, harmony and prosperity.
On January 10th, 2022, we opened the first Buddhist Primary School in Uganda. Firmly based on the Buddhist ethos and values, the school is steadily growing. The school has also integrated novice monks so that they can also attain secular education alongside the monastic education.
On January 1st, 2023, Our major focus is to construct the first Buddhist High school in Uganda. However, the current space is not enough to construct dormitories for boys and girls, novice nuns and other UBC activities. Therefore, we have opened a fundraising drive to raise funds that will buy the land for future expansion of the Uganda Buddhist Centre activities.
Please, kindly help us pass this message to your friends so that they may get an opportunity to be participate in this noble cause. Every donation regardless of the amount truly counts.
If you are interested to be part of this project, your donation can be remitted to: 
Bank Name: Bank of Africa Uganda Limited
Bank Account #: 01178230007
Account Name: Uganda Buddhist Centre
Swift address: AFRIUGKA
Address: Main Branch, Plot 45, Jinja Road. P.O. Box 2750, Kampala, Uganda.
For further enquiries, you may contact us at email to ugandabuddhistcentre@gmail.com
Thank you so much.
We are looking forward to hearing from you.
Yours sincerely,
Ven. Bhante Buddharakkhita
Founder and Abbot