Bhante Returns from His Dhamma Tour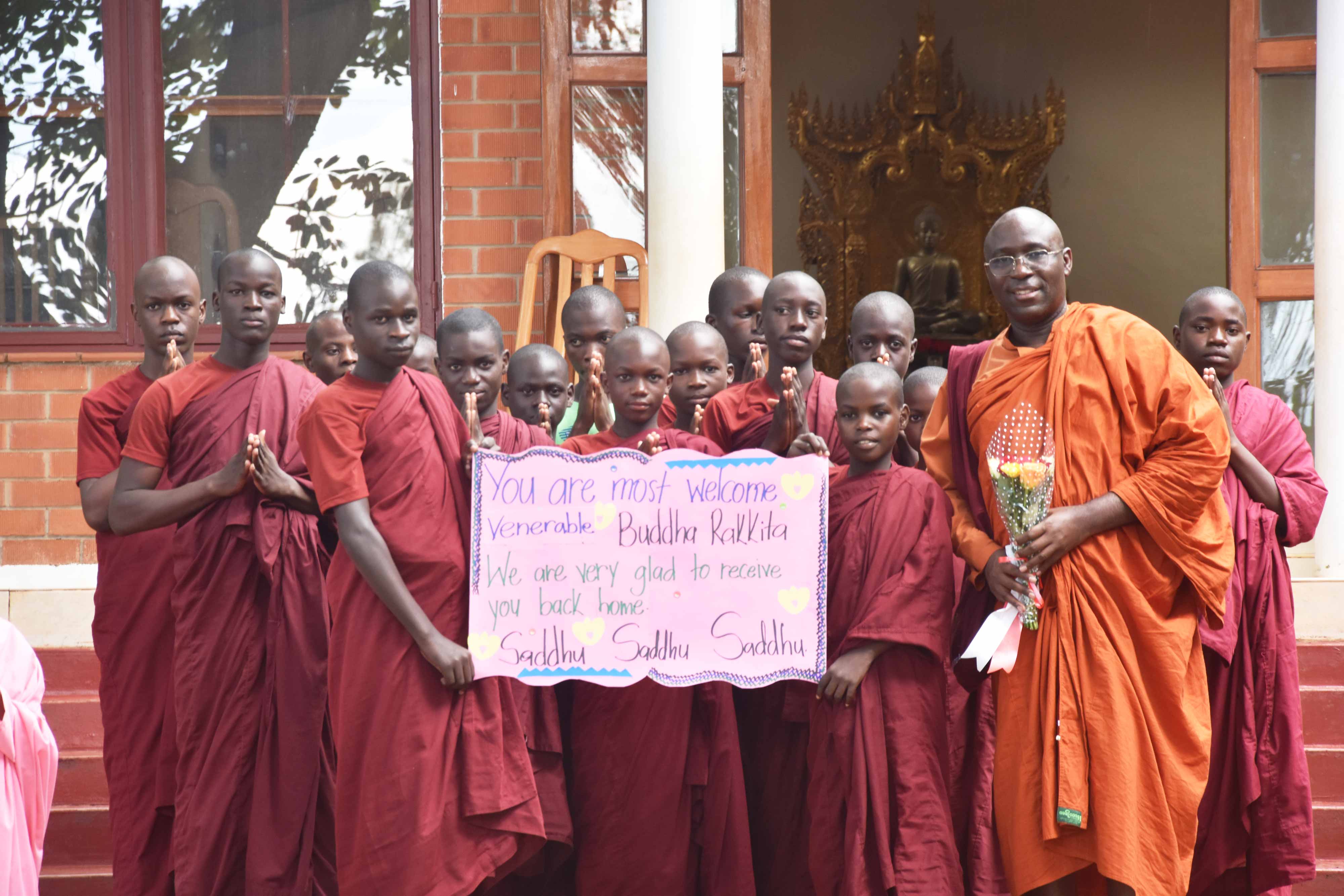 On June 12, our esteemed teacher, Bhante Buddharakkhita returned from his Dhamma tour in Singapore and Taiwan. His presence was eagerly awaited by the members of the Uganda Buddhist Centre (UBC) who had missed his guidance during his absence.
Bhante's tour was filled with significant engagements, including leading Vesak celebrations (the commemoration of the birth, awakening and passing of the Buddha) at the Buddhist Fellowship of Singapore. In addition to his participation in the Vesak celebration, Bhante delivered a series of enlightening Dhamma talks on various themes, sharing his profound wisdom with the eager audience. The President of Singapore also graced these events with her presence, acknowledging the significance of Buddha's teachings especially in our times.
While in Singapore, Bhante had the opportunity to congregate with Ajahn Brahm, a renowned Buddhist monk from Perth, Australia. Their encounter served as an exchange of insights and experiences, fostering connections and enhancing the mutual understanding of the Dhamma, harmony and collaboration within the Buddhist community.
Following his engagements in Singapore, Bhante embarked on a journey to Taiwan accompanied by his friends. The purpose of their visit was to meet potential donors, including members of the Buddhist Tzu Chi Charity Foundation. Tzu Chi, a global Buddhist relief and charity organization based in Taiwan, is actively involved in humanitarian work worldwide. Bhante's meeting with Tzu Chi members aimed to strengthen the connection for future collaborative efforts in promoting peace and alleviating suffering.
Upon Bhante's return to the UBC, the community members were delighted to welcome him back. In a heartwarming display of compassion and spiritual guidance, Bhante led a blessing and merit sharing ceremony for a Vietnamese friend who recently lost her mother. This ceremony served as a powerful learning experience for the local people, providing them with an opportunity to observe and understand the Buddhist way of expressing support and sharing merits for the deceased. The merit sharing and blessing ceremony demonstrates the core principles of Buddhism, emphasizing compassion, empathy, and the interconnectedness of all beings. Bhante's guidance allowed the community to come together, offering their prayers and support for the grieving friend. The ceremony also highlighted the significance of accumulating merits through selfless acts, ultimately leading to positive transformation and spiritual growth.