Dolores and Dawn Visit Bhante Buddharakkhita at UBC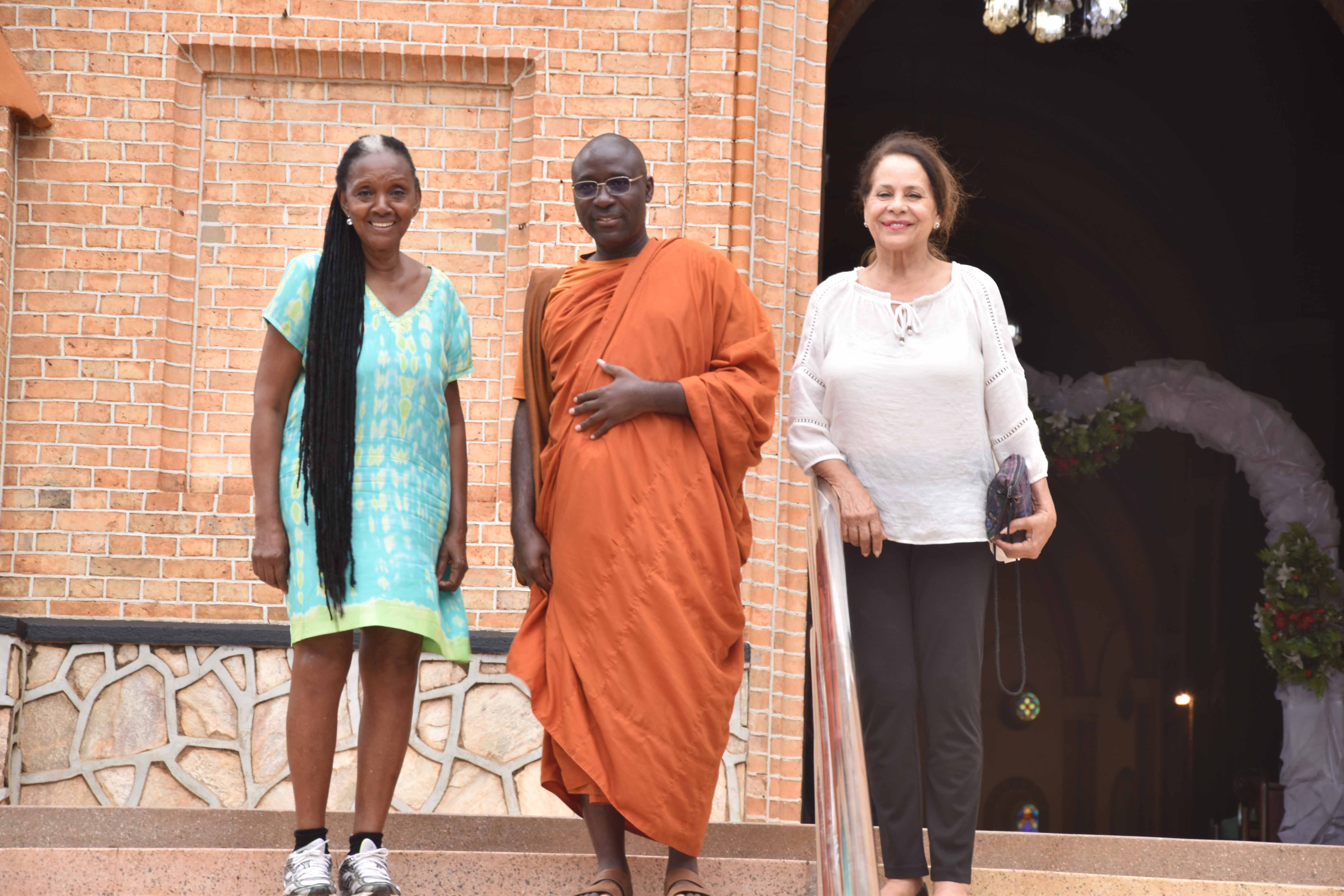 Dolores Watson met Bhante in 2009, while Bhante was teaching at IMS in Barre, Massachusetts. She asked him to be her teacher and Bhante accepted.  Later, Dolores spent three days driving all the way from New Orleans to meet Bhante at Bhavana Society in West Virginia. The culmination of this meeting was the establishment of Flowering Lotus of which Bhante Buddharakkhita became a Spiritual Advisor. However, both Bhante and Dolores are no longer affiliated to Flowering Lotus Meditation Centre. She founded Radiance Retreat Center in Magnolia, Mississippi, where Bhante is the current Spiritual Advisor.
After ten years, their friendship culminated into the arrival of Dolores to the Uganda Buddhist Centre to show her support for Bhante and his Dhamma activities in Uganda, Africa.  Dolores came along with her friend, Dawn Perryman to Uganda on the night of August 3, 2019.
On the following morning, Dolores and Dawn distributed items that they had carried to UBC's women economic empowerment group and teenage girls. Some of the items offered included clothing, detergents, chocolates and sanitary towels. The two demonstrated to the young girls how to use the sanitary towels that they offered.
On August 6, 2019, Bhante took the visitors to the Peace School, where they interacted with the children and the staff. On their arrival to the school, two children offered them flowers, a moment which was very humbling and touching for Dawn and Dolores. Dawn and Dolores also offered chocolates and candies to the children, and had a grand tour of the whole school while Bhante Buddharakkhita highlighting the development plan of Peace School.
Remember: Peace School is an education program of the Uganda Buddhist Centre, established to provide holistic and high-quality education while embracing African values, Buddhist values and the Uganda National Curriculum to children.
Thereafter, they were taken to St. Paul Bulega Primary School and Bugabo Primary School, where they had a grand welcome and cultural entertainment by the Primary Six pupils. Bhante has offered boreholes to both schools, thus providing access to safe and clean water for children and the nearby communities.
Later in the afternoon, they travelled to Ssese Islands to see the land that Bhante is planning to buy for expansion and establishment of a retreat center.
Together with Bhante, Dolores, Dawn and other UBC members visited the Source of River Nile, the longest river in the world. While in Jinja, they also visited the Palace of Obwa Kyabazinga Bwa Busoga (Busoga Kingdom).
Dolores' visit to Uganda coincided with her 77th birthday on 12th of August. The UBC team and members of the community surprised her with a birthday celebration gifts. She was moved to tears by the generosity of the UBC members. On the same event, Bhante offered gifts including umbrella trees for both Dolores and Dawn to plant at UBC.
Dolores had plans to travel to Kenya and Rwanda, but she canceled the trips on the grounds that she needed more time to experience Uganda. In the afternoon, Bhante took Dolores and Dawn to visit Golden Hearts Kindergarten and Day Care Centre in Kasenyi, Entebbe. The school was established by Counsel Joseph Kalemba, a volunteer legal adviser at UBC.  Later on, Dolores donated USD 1,000 towards the installation of a borehole. Moreover, in appreiciation of Kalemba's legal advice, Bhante donated USD 312 towards plastering the floor of classrooms.
UBC team and the local communities, are eternally grateful for her continued generosity towards the Centre.