Making Great Strides through Buddhist Art
Art is the backbone of a society. Historically, art was the way through which mankind shared life experiences.
Buddhist art was developed to present the timeless and profound teachings of the Buddha which has remained a pivotal part of the cultural fabric of most southeastern part of Asia. However, as the Dhamma spread and evolved in the different parts of the world including Africa, Buddhist art was adapted and assimilated to the culture and art of the host country. In Uganda, the teachings of the Buddha are having a great resonance where it continues to open hearts and minds.  The Uganda Buddhist Centre, with its adherents are inspiring and creating art to express and echo the timeless and universal teachings of the Buddha. Buddhism in Uganda has started attracting artists.
One of these artists is Gilbert Kalegga. He is a great artist in drawing Buddhist paintings and pictures. Currently, his paintings are displayed at the Uganda Buddhist Centre temple.
He narrates a story how he came to be interested in art from childhood.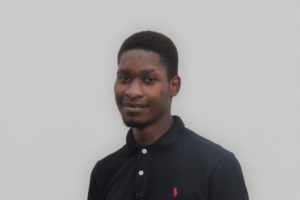 Brief Background of Gilbert
"In 2009, I was in my primary six, twelve years old and dared myself to work on the late Michael Jackson's portrait. In fact, it was so good that my class teacher requested to own it. It was a turning point in my life when I realized my talent and abilities since I had never thought of being an artist.
Eight years later, while I was in high school at London College of St. Lawrence, I reflected on the idea of being an artist. Consequently, I started getting commissions for all kinds of portraits from the school staff.
In 2017, during my vacation, I volunteered with Dwelling Places, a Christian organization dedicated to rescuing and rehabilitating street children, abandoned babies and high-risk slum families in Uganda.
Also, I joined a private Arts and Design gallery where I trained in teaching art and compound design for eleven months till mid-2018. However, I felt like I haven't yet fully explored my creative potential. Therefore, I embarked on a mission of boundless self-discovery. This led me to discover a unique art I had never seen in Uganda. In the same period, I met Venerable Bhante Buddharakkhita who advised me to start making Buddhist paintings and art.
Currently, my aspiration is to make these paintings more affordable for all people, establish a self-sustained workshop, gallery and a Buddhist Arts and Design Institute.
Furthermore, I would like to teach Buddhist art at the Uganda Buddhist Centre Peace School.
I am established at the Uganda Buddhist Centre. I am kindly requesting for support to boost Buddhist art in Uganda and Africa.
Below are the different sizes of the artwork I do with their respective prices in Uganda Shillings (USD 1 = UGX 3,670)
A0 | A1| A2|A3+| A3| A4 |A5| A6.
Size
Without a frame
With a Frame
Medium
Large
A0
118.9 * 84.1cm
415,400
250,000
320,000
A1
84.1 * 59.4cm
324,300
170,000
220,000
A2
59.4 * 42.0cm
260,200
90,000
140,000
A3+
48.3 * 32.9cm
226,700
72,000
80,000
A3
42.0 * 29.7cm
215,000
60,000
68,000
A4
29.7 * 21.0cm
183,000
40,000
45,000
A5
21.0 * 14.8cm
160,000
20,000
28,000
A6
14.8 * 10.5cm
144,000
10,000
______