Mayor Appreciates Bhante's for His Work in the Community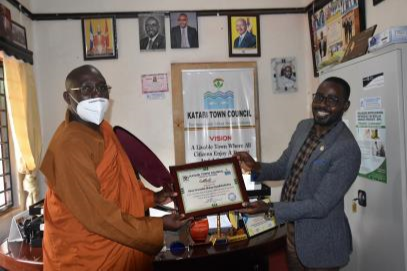 On November 17, Bhante Buddharakkhita was hosted by Mr. Ronald Kalema at the Town Council headquarters. The Mayor appreciated the community services of Bhante in the areas of improving people's quality of life not only in Katabi town but also in the whole country.
The Mayor handed Bhante a certificate of appreciation in his office and offered him a tour of the town council initiatives.
They also toured Katabi Town Council, and landed at Kiwuulwe  fishing village. Upon arrival, the entourage was welcomed by the village chairperson. The Mayor expressed a great need for safe drinking water in this village. People depend on the water from Lake Victoria which has been affected by the recent surge on the lake.
It should be noted that  UBC's activities and Bhante's initiatives have focused on social and economic programs such as women and youth economic empowerment, provision of safe and clean water and education that have viably improved people's standards. Over 5,000 people have access to safe and clean water daily, and women and youth have been trained in entrepreneurial skills.