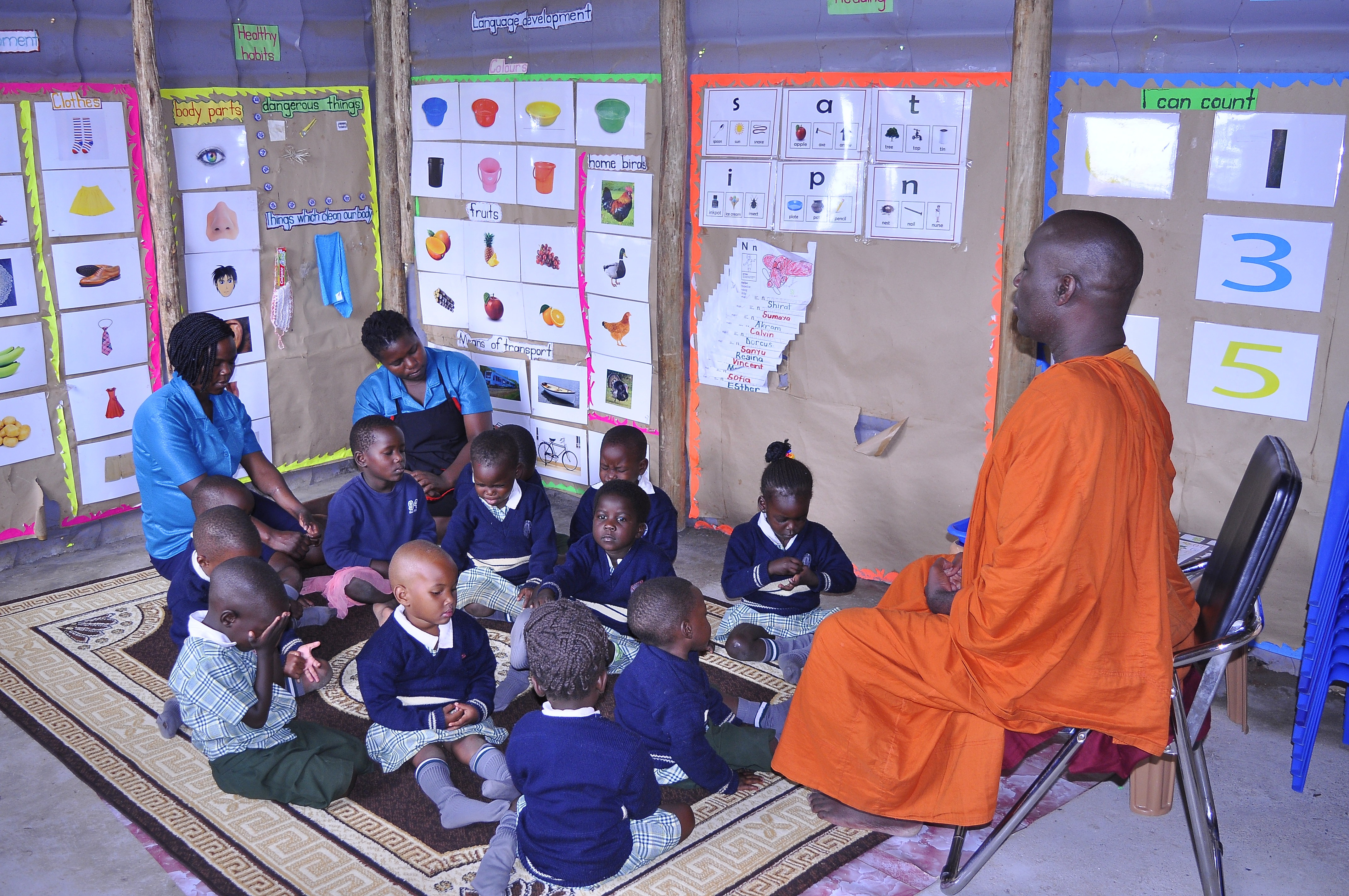 Historical Background
The Peace School began at the Uganda Buddhist Centre (UBC)as a Sunday Dhamma School in November 2008. The main focus for its establishment was on reforming the character of children through the inculcation and practice of morality, mental concentration and wisdom.
The School began with four children aged (5-11) years. Bhante Buddharakkhita began teaching children with Dhamma stories that relate to real life experiences. It was then that Ugandan and visiting volunteers expounded upon this teaching. The teachers and children were keen to share their own experiences and also eager to learn from each other. The Abbot of UBC offered some scholarships to children mainly from under-resourced families.
The number of children started growing from time to time making a total of 15 children by 2009. The first batch of children was offered an annual scholarship fund for their school fees. Donations of blackboards were generously offered by Sri Lankan Buddhist followers living in Uganda. Other people offered exercise books to the children for the whole term of three months.
Realizing the benefits of bringing their children to attend the Peace School Dhamma classes, more parents started sending their children to the Centre. Between 2010 and 2015, the total number of children in the Dhamma School was fifty (50).
The number of children became overwhelming yet UBC didn't have enough facilities to cater for such a big number. We used to teach children under tree shades, which was challenging especially in times of rainy seasons, not until in 2014 when we received a tent from where we could conduct classes for children.
The School maintained its founding spirit serving over 30 children from Bulega and the surrounding communities. Teachers are volunteers, local and foreigners who come with their unique backgrounds, global perspectives and experiences to provide a structured learning atmosphere for young children focusing on both individual and group learning.
In November 2018, Peace School embarked on an ambitious program of expansion and development, which saw establishment of a fully-functional and day school. The School now inspires a well-formed education to students from 3-6 years. Its curriculum has expanded to include; the Learning Framework for Early Childhood Development Curriculum with a blend of Dhamma, meditation and Yoga practice to build both the mental and physical personality of the children. We are also designing artistic works to help children retain, develop and expand creativity as well as support cultural awareness.
Furthermore, the new Peace School is now offering child development education to 12 children (8 girls and 4 boys) between 3-6 years of age. We want to keep and maintained a low ratio between teacher and student to ensure quality education and sustainable outcomes. These children are fully sponsored by the Uganda Buddhist Centre and its partners.
Vision
The Peace School envisions peace for all. The school is set to offer high quality education combined with a variety of life skills, contemplative practices such as mindfulness and meditation in order to develop a deeper understanding of their purpose of life.
Mission        
The mission of the Peace School stands very unique among the institutions of learning in Uganda. Through rigorous training and learning, we seek t prepare children with knowledge, skills and wisdom to enable them realize their intellectual, social and emotional being.
Location
The school is serenely situated within Bulega village, Garuga in Entebbe, Wakiso District. The school is purposely located in Bulega to accommodate students from its locality and those from other parts of the country.
Capacity
In its infancy stage, the school has a substantial number of full-time staffs recruited from the neighboring villages and other parts of the country. We also often receive international volunteers from around the world who come to support the school.
 Curriculum
To ensure higher educational standards, the Peace School uses the National Learning Framework for Early Childhood Development for the nursery section and progress of educational experiences is continuously monitored.
School Community
The school is an educational project of the Uganda Buddhist Centre and its day-to-day operations are run by the Centre's team.  Inclusivity is one of our goals. We stand to provide inclusive education to all individuals from a wide range of backgrounds. We welcome all children and staff from the various religions, races, spiritual traditions, gender inclusivity, ethnics and so on. Current enrolment includes children and staff from different faiths.
Challenges
Like any growing school out there, we are faced with a number of challenges. These include:
Lack of permanent learning classrooms to teach children – currently, we teach children under wooden classrooms. We need funds to build 10 permanent classrooms for the nursery and primary sections for children to be able to learn under any weather conditions.
Limited funds in our scholarship program, yet there are number of children needing support in their education. We need more scholarships fund.
No volunteers to teach – the UBPS is entirely taught by volunteers who donate their time to spend with children, share and learn. We need volunteers to support children shape their individual needs and realize their intellectual, social, and emotional growth.
We are also looking forward to building partnerships with individuals, schools and organizations or companies that will support and promote our values.
Moving forward—Strategic Direction
We are inspired by the enthusiasm of our children to learn and the achievements of our history. Peace School continues to grow and we believe that every child can benefit from all our programs.
As we embark on our next phase of evolution, we are planning to construct a primary section which will later develop into a secondary school and ultimately a university.